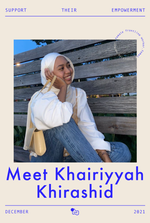 MEET Khairiyyah Khirashid
Frontline workers have been pushed to their limit against this never-ending fight against the pandemic. In this series of Support Their Empowerment, we have Khairiyyah, a third year nursing student in NUS who will be sharing with us her journey as a nurse in Singapore. 
Khairiyyah comes from a big family of eight members and she is the fifth child. She is also a mother of her three cats; Thomas Hanzo, Hammy and Ginger. Growing up in a big family she had to be independent and responsible with herself which leads us to our next point. 
When asked why she decided to pursue nursing, here is what she said: 
I decided to pursue nursing as my ability to empathise with people led me to enjoy working in the healthcare sector. I knew it was my calling and have wanted to join nursing ever since Secondary school. I worked really hard towards it and thankfully made it to junior college then nursing in NUS which was the course I have been wanting to join ever since I knew nursing was for me. 
We also asked Khairiyyah about her experience in nursing - her highs and lows. Here is what she had to said: 
Highs: My favourite thing about nursing was the practical aspect of being able to try hands on skills and learning all about the anatomy. Moreover, my interest and passion for nursing has allowed me to gain useful skills outside of the job such as helping my families and friends who are sometimes in need of medical advice. It feels really great and refreshing to know that I am able to use my strengths to help those in need. 
Lows: I have been doing well except for times where it could be hard. As nursing is a frontline job, my holidays are sacrificed to clinical attachments where it is required for healthcare students to gain first hand exposure to real life settings. This causes burnout and stress due to never ending school-work life and you find yourself unable to catch a break to find time for yourself. You start questioning and resenting where you are in life. You love the work you do but you have to make a lot of sacrifices in order to do what you love. That was the downside of working as a nurse for me. 
Here is a few advice Khairiyyah shared for frontline workers: 
Remind yourself of why you chose the job and never lose sight of your reason and motivation. Most importantly, prioritise yourself. Find out what makes you happy and what de-stresses you, check back with yourself to see if you are okay. It is important to be fine first before extending your help to others. Personally, when I find myself at a brink of a breakdown or exhaustion from school and work, I find my friends or family and spend time with them as they are important to me and brings me joy. After hanging out with them, I tell myself I had my fun and I can't run away from my problems so the only thing I can do is to cope and adapt to the challenges. 
TLDR: find your coping mechanism, remind yourself of why you chose this career and rely on the people you love. 
When asked about her favourite quote, she shared: 
"To live is the rarest thing in the world, most people just exist." - by Oscar Wilde
I lived by this quote since I was young, because of the meaning attached to it. While life in Singapore may seem monotonous and repetitive, some of us tend to forget how to live. Living is subjective and for me, living means spending time with people I love. Despite all the busy schedules and connotations that comes with being a nurse in Singapore, I will still choose this profession in a heartbeat and make time for my friends and family when I can.