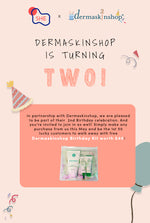 Dermaskinshop 2nd Birthday X SHE Period
It's Dermaskinshop 2nd birthday this May! As one of their official partners for their 2nd birthday, we are excited to introduce their fantastic range of skincare products that will help you in your daily life.
Their highly raved brands, which you may already know of, includes Heliocare, the World's 1st Oral Sunblock (you can actually consume them in capsules!); Neostrata & Exuviance, created by Founders of Alpha Hydroxy Acids (AHAs); VivierSkin, the highest quality stable Vitamin C serums with L-Ascorbic Acid (USP), and more to come! 
As the sole authorised distributor in Singapore, their products are guaranteed of its authenticity and quality.
Check out their best-selling product - Heliocare Oral!
Do you know you can actually consume your sunblock? Simply take one capsule in the morning when spending extended periods outdoors in the daylight! Heliocare Oral, World's First Oral Sunblock, has been extensively tested and researched at Harvard Medical School for more than 12 years for its safety and efficacy. In a recent study conducted at National Skin Centre Singapore, an 62% improvement in melasma was observed when compared to baseline in just 12 weeks.
Curious to know it's key ingredient? It's Fernblock! Fernblock has excellent antioxidant benefits that reduce free radicals by up to 50%, preventing the formation of hyperpigmentation caused by UV rays. It increases skin's resistance against sunburn and redness by 300% and slows down skin ageing by up to 55%! It reaches the skin's deepest layers, addressing limitations of your topical sunscreen and protects the entire skin surface while  repairing existing damage at the cellular level.  
Heliocare Oral does not replace the need for topical sunscreen, instead it protects the skin from the inside out and complements your topical sunscreen.
As part of their birthday celebration, simply make any purchase from their store this May and be the 1st 50 lucky customers to walk away with FREE Dermaskinshop Birthday Kit worth $40! Sounds great right?!
That's not all! Dermaskinshop is running their birthday SALE of up to 50% OFF! Customers who make a purchase (no min. spend) from 12 May to 31 May will get to walk away with a DSS Birthday Tote Bag + DSS Birthday Kit worth $59.90! Also, stand a chance to win more with DSS Birthday Claw Game!
Enjoy $6 off your 1st purchase at Dermaskinshop SG with code: HAPPY2NDBDAE, valid till 30th June 2022.