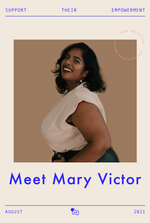 We are honored to introduce this month's #SupportHerEmpowerment guest: a round of applause to Mary Victor (@maryvictorofficial)!
Mary Victor is a talented makeup artist, model, singer, body positivity advocate and creator of the movement #TheBodyWithin.
Rooted in the body positivity movement, the hashtag #TheBodyWithin was created to celebrate and bring visibility to bodies that are often marginalized. It became a community to support and empower people in their journey of self-love and acceptance.
In this interview Mary Victor shared advice, her trajectory and what representativity means to her.
Could you share a bit about yourself and why you decided to start The Body Within?
I was bullied for my size, shape and colour when I was I school and I have always wished for a role model or a community within my age group that I could look up to for support and healing. 
I struggled with my body image, attempted suicide and have self harmed numerous times to get rid of my pain from bullying and self hate. I had a hard time finding people for support and even simply sharing the struggles I had with myself.
After releasing the body within as a photography series to share the personal journey I had with my body I had an idea to make it a movement to create that support and giving many young girls / women the opportunity to heal. 
Eventually the movement became what it is today and it has helped numerous local women feel better about themselves with the concept for body neturality and acceptance.
Could you share a little bit about your entrepreneurial journey – your highs and lows :) 
My journey as an entrepreneur had been a rollercoaster ride especially with the covid in the way. 
One of my best highs was when I created my own coaching programme for aspiring Makeup artists and it was one of the most rewarding and fulfilling things I have ever done. To impart knowledge to help another artist succeed in their journey. 
One of the lows I've had was a serious self doubt moment when I questioned if this is all worth it. If fighting for a business I created on my own worth it.. with covid happening that self doubt comes and goes especially when you're financially struggling, but passion always reminds me that this is not the end of the world and that I shouldn't give up so easily. Having friends who are entrepreneurs definitely helped with my journey. 
What's your advice for people who want to start their own ventures?
The first step in deciding what career path to embark on would be to identify your interest, specifically what do you want to do EXACTLY. You should
Create a list of careeers you'd like to do, (5 things) 1 being the one you want the most and 5 being the least of your choices - all still within your passion - The reason for the list is for you to understand what you're most passionate about and what you aren't so passionate about - don't think too much about your limitations for this list- the sky is limit whatever these career choices may be.
Now after organising your career options, it's time you sit down and research what is it exactly that can help you get there. - e.g. for me : learning makeup, getting a license, networking, building my service as a brand for potential expansions in the future.
Be specific with your career headstart - what is it exactly. If you want to be an entrepreneur - what kind, are you creating products or service etc, how much should you invest, how can you reach your goals, what is required. the more questions the better. 
WHY : to help you understand more about what you're getting yourself into. Remember that commitment is a huge part of this - so get as many information as you can before you jump right in. This way, you'll avoid dealing with boredom, burnouts, resenting the choice you made 
1 name + 1 quote: someone that inspires you and a great quote that this person once said.
Haha this might be a very common answer but Beyonce Knowles Carter has been my biggest inspiration since I was young. 
My favourite quote : 
Whenever I feel bad, I use that feeling to motivate me to work harder. I only allow myself one day to feel sorry for myself. When I'm not feeling my best I ask myself, 'What are you gonna do about it?' I use the negativity to fuel the transformation into a better me.
We couldn't say any better! Just yaaassss!