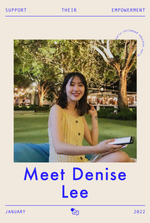 In this Support Their Empowerment section, we welcome Denise to join us in a conversation about her profession as an early childhood educator. 
Denise is a 23 year old who started working as a preschool educator 2 years ago. She recharges herself through her many different hobbies like gaming and cafe hopping! 
When asked why she has decided to pursue early childhood education, here is what she said: 
It started with a decision I made when I knew I didn't want to take up an office job as an adult back in secondary school. The endless roles and responsibilities that came with being a preschool teacher intrigued me. The job did not feel boring or mundane and it was more than just being a "nanny". 
We also asked Denise about her experience with being a preschool teacher - her highs and lows. Here is what she had to say: 
Highs:  
It is extremely rewarding to watch the children grow into kind and competent learners. As well as receiving genuine gratitude from the child's parents when they recognise preschool teachers' hard work even in the smallest ways. 
Lows: 
While many have the perception that being a preschool teacher is easy with common reactions such as "oh your job is to change the children's diapers and play with them?" It dismisses the hard work and effort preschool teachers put into their day-to-day lives and the recognition they get is certainly underwhelming. To top it off, being a preschool teacher is definitely prone to experiences such as burn out due to the poor work life balance and the emotional exhaustion. 
Here is some advice Denise has for those who would like to know about the job scope: 
You have to come with an open mind and willingness to learn. You are able to learn something new everyday be it from the children, fellow teachers and principal. It can be tough and tiring, but it is definitely an interesting fun-filled rewarding journey! 
When asked about her favourite quote, she shared: 
"Is the glass half full or half empty?"
Keeping this quote in mind reminds me that it's all about perception. If I think that it's going to be a horrible day, it will be. Instead, if I learn to start my day with a smile and enjoy the small things, I find much more small moments of joy in my day.