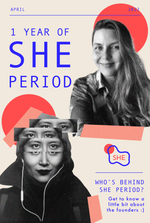 Happiest of birthdays to SHE Period! Our brand is turning another year older, unbelievable!
On this special occasion, we wish to spread the joy by sharing more about our brand's story with you, our SHE Period community!
MEET OUR CREATIVE HEAD - JANAYNA (she/her)
Janayna is responsible for the design, branding and visual communication of SHE Period. Having lived in São Paulo, Ichihara, Berlin, Paris, Gothenburg and Singapore, she has had unique experiences and learned a lot from different cultures. Now, she wishes for this diversity to be an essential part of SHE Period's identity. Currently based in South Korea, she is the brain behind making sure all of our creative details are on point and our visual communication is true to what we believe in.
Coming from a diverse family of working class migrants with strong women from both sides of the family, she witnessed her family's journey to lift her up. Through their struggle, they gave her the tools that she needed to pursue her dreams. She gradually grew aware about the responsibilities she had to break the wheel. 
Personally, she has always wanted to work with a purpose, to make a positive impact in the world. To her, SHE Period is the opportunity to make a difference, with the freedom to create, learn, sharpen her instincts, and make a positive impact in this community of menstruators.
MEET OUR SHE-EO - CLARA (she/her)
Clara is responsible for making sure the operational sector is fully structured and functional: from the very beginning - when you buy our product, till the package is delivered to your house. She also ensures that the products you'll purchase are well stored and carefully packaged. With the vision to ship worldwide since the founding of SHE Period, a lot of her efforts were focused on thoroughly understanding all the delivery process to each part of this big world! It's non-stop work, but we do it because we love it!
Clara is vegetarian and mother to a 9 months baby, Francisco, and two dogs, Leopoldo and Milka. She has been hustling since the age of 16!  She has tried her hand at many jobs, including a store salesperson, wedding assistant and teacher in South Africa before starting to work in MNCs. It was this wonderful journey that led her to start SHE Period using her wealth of knowledge in these big established companies. In all this, she maintains down-to-earth because of her humble beginnings.
Previously a corporate executive from Brazil, she came to Singapore with her husband with no prior knowledge of Asia . It was her tremendous courage and belief that led her to start a company here in Singapore.
As a woman who wears many hats, she has been learning how to manage life as a founder and a mother ! Her recent move from Singapore to Berlin is an exciting challenge for her as well.
Clara's plan for the future is to have more impact on our planet with less disposables and she hopes to impact more people with SHE Period products, These impacts include changing daily habits and incorporating more sustainable actions into our daily lives, as well as giving more performance to everyday individuals through SHE Period products. For example, the menstrual disc allows menstruators to work and exercise freely without worries, increasing productivity.
We, the team at SHE Period, would like to thank all of you for this amazing journey so far. We will continue to develop more products according to what you, our SHE Period community wants, and strive to improve lives together with you.
Happy birthday to SHE Period!
Feliz aniversário SHE Period!