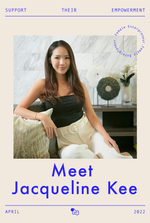 A round of applause for our new guest, Jacqueline Kee! She is the co-founder of Apogee Collective, the parent company for Good Vibes & Hedonist alongside co-founders Sabrina Angela Meir and Jade Amar. Good Vibes & Hedonist are two sexual wellness brands in Singapore here to empower one to own their true pleasures. 
With years of marketing experience at start-ups coupled with her passion to inspire others to have balanced, healthy, purposeful lives of their choosing, she hopes to empower others to discover their authentic self and take control of their own pleasure and happiness with a sense of confidence.
"Growing up I was so made to feel like my sexual needs were "too much" and I didn't really have someone to give me a healthy support and understanding towards sex and pleasure. That is why I'm so passionate about being an advocate for other women who maybe second guess themselves when it comes to this topic. I want to destigmatise the conversation of sex and pleasure by helping others find their voice, their self worth and confidence. To create a supportive and safe environment, for people to ask intimate questions as they navigate their sexual journey without any shame or judgement." 
She owned her first vibrator in her early 20s as a gift but her first experience with the sex toy did not do much for her despite her excitement. She wondered if there was something wrong with her or perhaps that toys were overhyped 
"In reality, many of us have to experiment with different toys until we find what feels the best for us. Some of us may have more sensitive clits and some of us may need toys that are more flexible as our anatomy may differ slightly. It's not a one size fits all"
She was able to experiment different products with her husband (who she was dating back then) and she was surprised at the different ways it elevated her sexual experience. She recalls walking into a retail shop to find the toys she wanted but to find graphic images and phallic looking objects staring back her, only to make the experience of shopping for a sexual toy intimidating and overwhelming. 
She found herself asking "how can sex shops be more inviting?". She shared that she has always been candid about this topic growing up but she has never actually owned the conversation with confidence until her late 20s. The social stigma of how a woman should act and behave often caused quite an internal struggle for her especially in an Asian culture. 
"It was when I took the plunge in opening Hedonist 3 years ago that I decided to go all in. The mission of the brand is to create a sex positive community without shame and guilt and that began with me having to practice what I preach. My biggest hang-up initially was to come out to my mom (who is pretty religious) about what I was doing in the early stages of the Hedonist. I was so worried about how she'd react that I prepared a whole speech but she surprisingly took it very well. She doesn't have to fully agree with some of my standpoints but she understood the cause and her approval gave me a huge sense of confidence to grow not only as a business but as a person." 
Since then the journey of starting a niche business in the pleasure industry has taught her a lot and helped her to shed the shame and guilt that came with the topic. That being said everyday she is still reading and learning new things on sexual wellness to broaden her mindset and better her knowledge. 
"It's never too late to get acquainted with your sexuality." 
For those who are inspired by her bravery and candidness, she shares some advice: 
"Sexual wellness is for everyone and I think a lot of people tend to think that it concerns only for people who are sexually active or looking to procreate, or it's about sexually transmitted diseases. When that's just a fraction of what it actually is. Sexual Wellness is actually a part of a holistic approach to your physical and mental wellbeing." 
Jacqueline says that, our sexuality is a natural part of who you are. It is a healthy and intimate expression of our self-identity and if left neglected, it can cause a lot of imbalance in our lives. 
"It is directly linked to our happiness and if we don't have the safe space to talk about our inner desires, wants and needs, it can negatively affect the way we develop a relationship with ourselves and our partner. The most important thing to remember is that you are deserving of the love you give so freely to others, so be kind to yourself. Self-care is not selfish."
We asked Jacqueline, who inspires her? 
RuPaul: "If you can't love yourself, how in the hell you gonna love somebody else?" - Can we get an AMEN?~
AMEN!