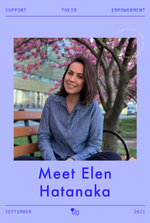 A round of applause for our new guest, Elen! Brazilian by birth with Italian and Japanese ancestors, Elen is a 38 years old nutritionist /dietician. Around 4 years ago she started taking the first steps towards the next chapter of her career: an international experience working overseas. 
"Considering myself as an explorer, Asia was in my pipeline for a while, due the multicultural environment, opportunities to travel, accelerated development in most of the countries that would contribute for me to grow professionally." 
The opportunity came in February 2019, and less than two months later she and her husband were ready to go, flying to Singapore. Currently, Elen is running and leading operations in 5 sites in 4 different countries across South East Asia.
"Despite coming from a multicultural and diverse country, I faced a few challenges in the beginning, mostly related to the cultural differences. Starting from the weather and food (insanely spicy haha) to getting to know different religions and communication styles. It took me around 3 to 6 months to feel comfortable and embraced, although I always felt welcomed. Singapore is a really friendly country."
At her job, she felt like working for a new company in the first months. Although the organizational culture was the same, as well as the processes, given the language barrier, it took her quite a while to be able to start contributing to the business. A significant experience that helped a lot in Elen's development was the participation in the Women Leadership and Development group and sessions together with her fellow female talents in the region - exchanging ideas and supporting each other.
After settling in Singapore, Elen and her husband decided to raise a family. Lots of uncertainties and fears came together with the joy and happiness of having a baby. From small things like having  to 'Google' all the pregnancy terminologies, to making big decisions about how and who would take care of the baby during working hours. 
They arrived in Singapore in June 2019 and in March 2020 Covid struck the whole world. No travels, no interactions, no gatherings with friends. 
"Motherhood is quite a lonely journey, and adding the pandemic restrictions, wow! My puerperium lasted longer and it was an out-of-control roller coaster of emotions. "
Going through her journey overseas and experiencing motherhood for the first time, Elen learned quite a few new lessons! Today she'll share some of them with us:
Working overseas
First, research as much information as you can related to the country, culture, habits etc. Also, prepare yourself mentally and emotionally by having in mind many possible scenarios and challenges you might eventually face. 
Second, do consider all pros and cons but don't let the cons and fears paralyze you! Remember, it is a big decision, but never irreversible. There is always a place to come back if things don't go well. 
Raising a child
A solid and strong partnership is very important to raise a family, especially living abroad, when mostly you just have each other to count on. I believe the success of this "small team" is essential for the success of raising a child overseas.
Check on the country's healthcare system and ensure that you have good medical insurance if necessary! This was crucial for us living in Singapore.


We asked Elen: who inspires her?
She answered:
My mother is my greatest inspiration. She is one of the strongest women I have ever met. Having such a difficult life, losing her parents early, being formally educated only in primary school, a farmer during most of her life, she raised me and my siblings to be strong, independent, educated and self confident. 
One of the quotes from her that I keep always in my mind is: 
"Don't let others put you down. Build your own path, you are the driver of your life and only you must decide the direction you will take."
♥