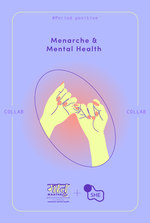 Menarche and Mental Health
Menarche can sound like a pretty complicated term. One google search and you see a million things pop up right in front of you. Now, imagine being a young teenager who wants to know more about the topic! Can be pretty overwhelming, right? Menarche is a period characterised by so many complicated life transitions and changes, along with a myriad of different emotions, and we are still often faced with a huge dearth of accessible information and resources to help young menstruators through the process. 
Like most of us already know, menarche is simply the first occurrence of the menstrual cycle in an individual. In other words, it marks the first time your body starts shedding that endometrial lining in your uterus. A lot of research and statistics has shown us that most people get their first period around the age of 12 years (Lacroix & Langaker, 2021). Menarche is very intricately woven with social practices and expectations. Often seen as the body's loud and clear statement declaring fertility (Lacroix & Langaker, 2021), it is also considered as a "rite of passage" or transition into "womanhood". It goes without saying that this period is often laden with multiple apprehensions, changes and novelty.  Now that we've established that menarche is characterised by so many transitions, it's important to think about how this can impact an individual. Menarche can have so many implications on the menstruator's mental and physical health. 
Studies have highlighted that the onset of menarche can be associated with pride, and a sense of identity, especially if the menstruator is prepared for it. Along with that, they might also feel certain levels of  anxiety, panic, confusion or embarrassment (Natsauki, Leve & Mendle, 2010).  That, coupled with the change that menarche brings in (all that body hair, the sometimes-annoying skin changes, and the growth spurts, of course) can make the experience slightly overwhelming at times (Natsauki, Leve & Mendle, 2010)!  
So, all in all, menarche can bring about a lot of emotional changes that are normally a consequence of all the changes happening both within and outside the individual. When we say outside, we mean all the age-old cultural stigma and taboo that has compounded from one generation to the next which curtails the young menstruator's accessibility to information or resources during the period. We also mean the social and economic factors that often put a constraint on the resources people across the world have access to. Hence, these changes are not just internal- they are external too. 
So, all of this sounds pretty scary, right? No, not really! If we give it some thought- it's only normal to experience a certain degree of anxiety and confusion in the face of these biological, psychological and social changes! While it's easy to view emotions dichotomously, as positive and negative, it's incredibly important to recognise these emotions as they are: the body's reaction to the change and novelty through the period. Infact, studies have even shown that these emotional "consequences" of menarche are actually pretty short term- it stays through the period of menarche and then we gradually ease into the process (Natsauki, Leve & Mendle, 2010). Yes, you read that right- these feelings of worry and anxiousness actually stabilise as the individual transitions through menarche. 
So does that mean that we turn a blind eye to all these emotions and concerns young menstruators might face? No, not really! Having some form of support before, after, and during the menarchal period can make a huge difference. It's still very important to urge various stakeholders within the field: mental health professionals, gynaecologists and organisations/individuals working within the area of menstrual health to be cognizant of the changes and transition menstruators might be going through during the brief period of menarche. It often becomes very easy to trivialise and dismiss the emotions and concerns a young menstruator might go through. However, it is integral to help and support menstruators through this process by building active conversation on the topic in the premenstrual phase itself. Young individuals can be made more aware of the possibility of menarche, and the various emotions and changes that might accompany it. They can be told about the self-care strategies that can be employed, and be provided with the resources to navigate the large amounts of information they might be met with. Though the concerns through menarche might just be transitory, it is important to foster a comfortable and safe space for young menstruators to grow within.


Text by Shweta Sunil and Preeti Kodancha. 
Maathr co-founders.

Shweta is a student of Clinical Psychology and extremely passionate about normalizing mental health and making it more accessible. She's very enthusiastic about encouraging positive mental health through multiple ways apart from, and including therapy.

Preeti graduated with a BSc Honours in Psychology from CHRIST (Deemed to be University), Bangalore, in 2020. The brain-body interface and its workings fascinate her, and going forward, she hopes to pursue a career in Clinical Neuropsychology.