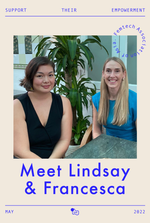 MEET Lindsay and Francesca!
Let's welcome this month's guests, Lindsay and Francesca! They are the founders from the Femtech Association of Asia (FAA). The FAA is the gateway to the FemTech industry within Asia. 
Lindsay has an international background, working in multicultural advertising in the US and then in the global luxury sector based out of London. She moved to Singapore a few years ago to be closer to the exciting growth opportunities in the region and to start her own business transformation consultancy, One Bee Consulting. Francesca on the other hand, was a former agency fiend-turned-consultant and self-titled "femthusiast" (female enthusiast), who was on a mission to find ways to support and empower women. She is also a parent to a tiny tyrant aka two year-old toddler. 
Lindsay and Francesca recall the time they first met to begin this wonderful journey of The FAA. 
One of Lindsay's clients invited her to moderate their women's leadership conference back in May 2021 and Francesca was managing the event's social media and photography. They met and immediately connected with common interests in female empowerment and the goal of creating impactful communities. 
At that time, Francesca had just started working in the  FemTech industry, for Fermata Singapore. Whenever she brought up the topic of working in FemTech, she was often met with eyes of uncertainty and doubt - "Isn't it niche?" and "shouldn't you find something with more growth or stability?" but Lindsay was intrigued.
A couple months after the meeting, Lindsay rang Francesca up and asked her if she was interested in creating a series of panels around FemTech. In just a month, they pulled together a three-part panel at The Mandela Club around The Future of FemTech focusing on the introduction, innovation and investment around this new and exciting industry. 
The response they received from the events were incredible, from both the audience and the panellists3. They saw there was an interest and the opportunity in the market to create something impactful and that was the beginning of the FemTech Association of Asia.
They saw impressive and innovative FemTech companies making great strides in the US, UK and Australia (and more!). With this inspiration, they spoke with over 20 FemTech company founders across Southeast Asia to understand regional challenges and business support needs. 
They found that FemTech businesses in Southeast Asia have been working independently and shared a desire for connection to a professional community to build a stronger industry voice for the region. Their market research also indicated that a formalised "FemTech Association of Asia" would benefit the region by: raising awareness for the industry as an opportunity for entrepreneurs to launch businesses; creating a trusted consumer resource for healthcare knowledge and solutions; and providing investors the insights to commit funds in this future-focused space. 
Lindsay and Francesca tells us about their journey building The FAA: 
The FemTech industry has an incredibly collaborative global community. As a FemTech Enthusiast turned Founder, I have found the FemTech ecosystem easy to navigate, with those in the industry willing to share knowledge, partner on initiatives, and discuss anything related to women's health, technology, entrepreneurship and more. With 80% of global FemTech companies (90% in the FAA) having a female founder, FemTech is a real-life example of women helping women with peer-to-peer advisory and the added benefit of authentic, business-to-consumer compassion. In FemTech, women are often the founders…and always the consumers.
The best part of the journey to them are the people, the purpose and the technology. 
It's a fascinating space! We see more and more people learning about women's health and showing interest in the FemTech industry because of the work we are doing. More FAA Members are joining us, most recently from Indonesia and Vietnam, so the voice of FemTech in Southeast Asia is wide reaching. We are pleased to see the impact of the FAA as we follow our mission to inspire collaboration in Asia's FemTech industry to accelerate the creation of more healthcare solutions, for more women.
The low part of the journey is that sheer volume of work to address the 'gaps' - research gap, knowledge gap, funding gap. It is a never-ending mission, but collaborating with amazing people and companies for the common purpose to improve women's health makes the work worthwhile for both Lindsay and Francesca. 
For those who are interested in the FemTech industry, and are aspiring entrepreneurs for a FemTech business, Lindsay and Francesca shares some advice for you: 
Research, research, research! Understand the market you are entering - target audience; competition; culture and taboos; government regulation and policies; data security and protection; funding journeys, etc.

Build a problem-led company. Ensure your business is problem-led, not product-led, to create a useful product that solves a meaningful problem for consumers.

Focus on customer experience. FemTech consumers prioritise trust, so every interaction with your brand must bring confidence and credibility.

Join the FemTech Association of Asia! For more information, reach out to us on LinkedIn or IG: femtechasia
We asked Lindsay and Francesca, who inspires them? 
Lindsay: My brother and sister-in-law sent me a birthday card that sits on my desk that quotes Laurel Thatcher Ulrich: "Well behaved women seldom make history." The quote itself has an interesting history, but at face value, it reminds me to model my leadership after the many strong women who paved the way for me to have more choices in life. I hope through the FAA we are able to inspire more women to start (FemTech) businesses or simply to take a first step towards better health.
Francesca: "Rejection is redirection".
I have found myself reaching for this particular saying over the last couple of months, sharing it with friends and family, even myself.
It's an important reminder that just because that particular path has come to a stop, it doesn't mean it's the end. We just need to jump onto a different road, take a different turn, experience a new view, ask different people for directions. In the end, we often find ourselves thanking the universe for the different outcome.
Lastly, want to get involved in FemTech, or learn more if you are interested but don't know where to start? Here are some tips from Lindsay and Francesca: 
Don't be afraid to reach out

to entrepreneurs or people who work in the industry. Most of the time, we are incredibly open to collaboration and conversation as we know there is a lot of awareness and education needed. The more people know more about FemTech, the better.

Join the FemTech Association of Asia

as an Enthusiast and gain access to exclusive events, news / updates

Help close the female research-gap

and take part in the FAA's quick 5-minute survey

here

.

There are some great resources available such as

FemTech Focus

(podcast),

FemTech Collective

,

Women of Wearables

and of course - She Period 'Free Flow' Podcast, The Della HQ and

shy.sg

.
While most available websites are global, it is a great starting point to learn the lay of the land. Who knows, you might discover a FemTech business idea to bring into Asia!
You can learn more about The FAA here: https://www.instagram.com/femtechasia/