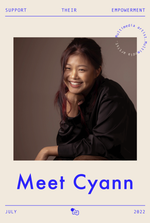 Let's welcome this month's  #SupportTheirEmpowerment guest, Cyann! 👏🏼👏🏼
Cyann is a multi-disciplinary artist, although most well known as a jagua tattoo artist! She also runs A Tiny Dream Studio, where she holds appointments and practices her crafts, while making space to uplift other local crafters, makers and small businesses. 
When asked why she decided to start jagua tattooing, she said: 
"I enjoy making art across a variety of mediums and it's something that I've done for most of my life. I've done and still do design work (mainly graphic, fashion and textile), oil painting, watercolour painting, and any painting or illustration work that people or businesses commission me to do.

However, the biggest difference between being a jagua artist as compared to being an artist of other mediums, is that jagua allows me to meet each client face-to-face and understand them on a personal level. The fulfillment from that is unparalleled. I love listening to my clients' stories and learning what is important to them (which is often reflected in the art) – these things make jagua sessions so much more intimate and meaningful.

To me, jagua is the perfect medium for these lovely interactions and connections to manifest." 
When asked about her journey, she told us: 
"It has been a long and winding road, getting to where I am today (and honestly, sometimes I wonder how I even ended up here, doing what I do now!) and that makes me really appreciative of all the good and bad that I've been through to get here. 

Finding your path as an artist is a never-ending journey – I don't really know where I'll be or what I'd be doing 10 or 15 years from now, but that can be exciting! The possibilities are endless.

Even now, it still is very scary for me to say that I'm a full-time artist – as rosy and dreamy as that might sound, it comes with a fair share of stressors as well. Like paying rent, or career sustainability! But I'm very thankful that I get to do this as my job."
For those who would like to follow her steps, here is her advice! 
"You have one chance at life – go full speed towards doing what you love! In the process, be kind, and lift up anyone you meet along the way. Things may work out, or they might not, but at least you'll know that you gave it a fair shot!"
Lastly, Cyann's favourite quote: 
"I am interested in ideas, not merely in visual products." - Marcel Duchamp