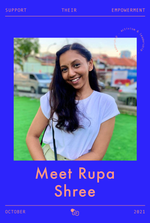 We love our #SupportTheirEmpowerment section because we get to know so many inspiring people! This time, we invited Rupa Shree: a young and passionate environmental activist. She is deeply conscious about waste, biodiversity and intersectionality of environmentalism with other social cleavages such as race, class, gender, sexuality and disability.
Since June 2020, she became the leader of Bye Bye Plastic Bags Singapore (BBPB SG), a youth-led social initiative to get Singaporeans to say NO to plastic bags through education and policy advocacy. They are part of the global Bye Bye Plastic Bags movement with over 50 teams launched in over 25 locations across the globe.
BBPB was founded by Melati and Isabel Wisen in 2013 on the island of Bali. The organization aims to be one of the leading youth groups in Singapore that advocates for Singapore to be an exemplary model for a plastic-free nation.
"We hope to inspire Singaporeans to be more conscious about their habits, lifestyles and actions. We believe that both individual and systemic action go hand in hand."
We asked Rupa about her personal experience in the environmental field and what challenges she faces. Here's what she says:
Personally, when I first entered the environmental field, I found that it was a very exclusive field with all the academic jargon. We are an organization that aims to simplify these more complicated topics and break them down into more accessible and digestible information. This brought some challenges where we were excused of over-simplifying important issues. However, we stuck to our beliefs which is to be an effective entryway for newcomers in the environmental field.
Here are a few advice Rupa shared for future environmentalists:
Start slow and with a few trusted friends first. Build your project/cause from the foundation up first to ensure it is stable and strong. You should always expect people to be against your cause but do not take that to heart and believe in yourself and your cause. Your belief in your cause will be the motivation to continue through the challenges and succeed. Also, set small and realistic goals for yourself and your team members.
When asked about a favorite person and quote, she shared:
"What is the point of being alive if you don't at least try to do something remarkable?"

by John Green
Here you can find more information about Bye Bye Plastic Bags initiative:
http://www.byebyeplasticbags.org/
https://www.instagram.com/byebyeplasticbags/
https://www.instagram.com/byebyeplasticbags.sg/