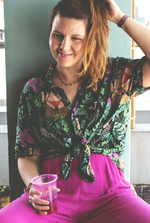 Clara is one of SHE Period's founders :)
Last year she partnered with Janayna to create the magic that is this brand. They had no idea about what they were getting into: a crazy ride with endless learnings!
Throughout this journey, the hardest was the beginning: starting a company!… In a pandemic... And in a foreign country.
"We were basically two outsiders trying to understand where to start. When you're in your home country, you already know where to find information, which documents you might need, and to whom ask for guidance. When you're in another country, it's a whole other story!"
While giving birth to SHE Period Clara got pregnant. "It was a blessing! But many times I asked myself: Am I going to be able to handle everything? Should I give up and lookout for a more stable job?". Fortunately, with all the great feedback SHE Period has received, Clara realized she made the right choice by sticking with her dream.
"What empowers me is the possibility to make a change for future generations and to contribute to this transformation by being an agent of change as mom and as a female entrepreneur."
If you want to start your own company or follow a dream, here's Clara's advice:
"Just go for it! The world is full of people with great ideas but only a few are capable to put them into practice. Trust your instincts, make a business plan and talk about your idea with as many different people as possible. You will find more collaboration by sharing what you think than if you keep everything inside your mind."